Welcome to Faesnor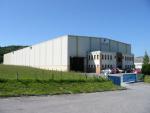 Fabricaciones Especiales del Norte, SA
Modern company of work-metal and mechanical constructions, as well as in special steels and in other alloys and metals.Company located to 30 km. From Bilbao, with accesses for superport of Bilbao.
We built for the nuclear world, thermal, hydraulic and eolic. Also in the industry of the chemistry, petrochemis, steel, metallurgist, cement and mining.
Our shops have an insole of 40 operatives, with official qualitative and welders approved.
The main characteristic of Faesnor they are quality, speed, good service, guarantee of execution and competitive prices.
Land: surface total 10,000 m2
Wide offices and pavilions of a total surface of 4,500 m2, with new and modern facilities, as well as machinery for the construction and mechanization of all kinds of pieces, everything this inside an industrial new polygon.
Our organization is designed in order to carry out quickly and guarantee how many orders trust us.
Faesnor it build teams and elements for very diverse sectors of the industry
We are endowed with the means characteristic of new technologies.
Some of our products are ovens of arch, vats of rollers in stainless steel.
tablespoons for iron, tablespoons for continuous laundries, tables colector, tundish, transferidores, roads of rollers, parks false bar, cars of despuent, collectors, cars carry vats, deposits of pressure, all kinds of structures, mills for quarries, hurricanes, ovens of cement, Sepol separadores, purifying machines of muds, valves butterflies, road refrigerated for palanquilla, towers for refineries, towers eolic, decantadores, intercambiadores, mills, presses for iron, columns and heads refrigerated for ovens of arch, bombs of hole, aspiration gases continuous laundry, cars of you blunt, etc.
By clicking any link on this page you are giving your consent for us to set cookies.